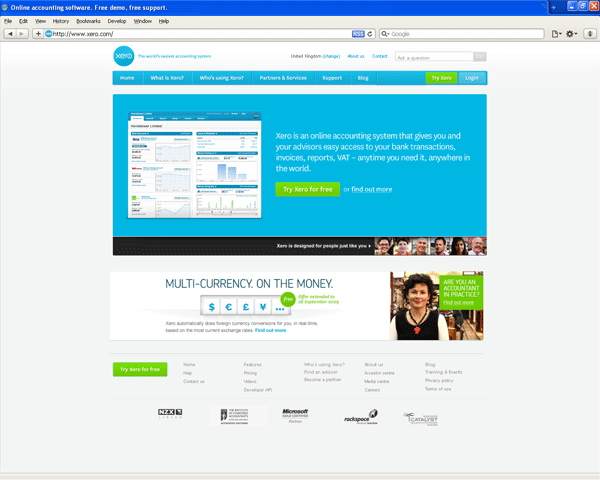 Website

Company Name

Xero

Company Location

Based in New Zealand, its headquarters are in Wellington with offices in Auckland, Christchurch and London, UK

Company's Founder(s)

Rod Drury and Hamish Edwards

Company's Shareholder(s)

Xero is a public company listed on the New Zealand Stock Exchange

Website Launch Date

July 2006

Number of Employees

57

Number of Paying Customers

6,000

Name of Each Package and Cost

Standard package £19 per month. A discounted pre-pay option offers its users 12 months membership for £289.

Free Trial

30 days
Company History
Founded by technology entrepreneur Rod Drury and specialist small business accountant Hamish Edwards, Xero advertises itself as the world's easiest online accounting system.
Offering its users access to bank transactions, invoices, expenses and reports from across the globe, Xero was initially designed with small businesses in mind but has become an increasingly popular accounting system for large stock exchange listed companies.
The ambitious duo behind Xero met at software company AfterMail and, in 2006, Drury and Edwards combined their business acumen and accountancy experience to create a new online accounting system. By 2007, Xero was listed on the New Zealand Stock Exchange.
Xero now aims to 'revolutionise small businesses' around the world. For its founders, 'that's what (they're) here to do.'
Links
Sources