We are thrilled to announce that we have partnered with Revolut Business to make it easier for Clear Books customers to pay their bills and run payroll with a click of a button.

Save time managing your business finances
With our new click-to-pay feature in Clear Books, you can now pay bills faster and tick your payroll task off in one simple transaction. Say goodbye to a mountain of paperwork, late-night admin, and manual data entry. With our new payment feature, you'll be sure to save time on your admin and enjoy doing the things you love most.

How it works
To pay your bills within seconds using your Revolut Business account in Clear Books follow these few simple steps:
1. Click 'Pay bills' and select the bill(s) you wish to pay in Clear Books
2. Review the details of the bill(s)
3. When you're ready to pay click 'Submit draft payment'
4. Once you click on the 'Revolut Business account' link, we'll transfer you to your Revolut Business account to quickly approve and finalise the payment.

Securely connect your Revolut and Clear Books accounts in seconds
It's easy and secure to connect your Revolut account with Clear Books. We are registered with the Financial Conduct Authority, and are ISO certified, meaning that your data is in safe hands!
Click here to connect your Revolut account to an existing Clear Books trial or subscription. Or, set up a new Clear Books trial by registering for a free 30-day accounting software trial and get yourself 50% off for the first six months.*
Not a Revolut Business Account holder?
To use this new and sleek feature in Clear Books, you'll need to hold a registered Revolut Business account. It's easy to join and you can sign up in minutes.**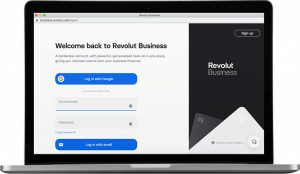 We're here to help
The Clear Books team is here to help. Simply call us on 0203 475 4744 or contact support here.
Disclaimer:
*To qualify for the offer, make sure you; Subscribe to Clear Books accounting software, Small or Large on a Monthly plan within 30 days of taking out your trial. Link your Clear Books account with an automatic Revolut bank feed within 1 month of subscribing. Offer is only available to new subscribers and isn't available in conjunction with any other offer (e.g. 50% off for your first 3 months).

**This sign up link is a paid affiliate link and has been provided by Revolut.