P11D tagging for your employees' expense items is now available in Clear Books! You'll find this new feature in 'Labs' section in your services drop down menu.
P11Ds are used to report benefits provided and expense payments made to employees by employers that are not put through the payroll. For more information visit HMRC P11D Guide.
The new feature functionality will allow you or your employee to mark an expense as an item to be included in P11D Forms. To activate it in your Clear Books account head to "Settings > Toggle Features>Invoices&Expenses>P11D".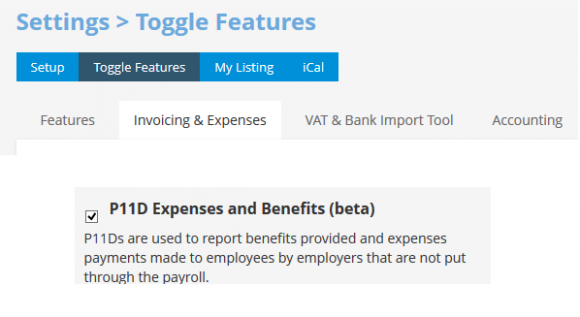 Once you've done that, you'll see that the "P11D" check-box will appear below each item when creating expenses.

Tagging can be done at this point or later on in the P11D Report View ("Reports > Tax > P11D Items"). P11D Items is a page where all your employees' expense items will be listed according to the filters provided allowing you to control the granularity of the displayed results. Bulk tag/untag and filters make this view very useful.