With multiple cloud accounting systems available on the market, choosing a primary online accounting software for your accountancy practice might seem like a daunting task. After all, a quick Google search will bring up dozens of results – but which to choose?
2E Accountants provide bookkeeping services on a range of different solutions and they find that Clear Books is one of the most popular among their clients. We are delighted to have spoken to Riz Wasti of 2E Accountants, for whom Clear Books is their preferred online accounting software provider and here's why:
It's simple and intuitive
"Clear Books have been very good from the beginning. 2E Accountants were the early starters, we encouraged clients to use Clear Books so it's a big part of our practice today. The interface has been especially good from the start and it was always easy to find my way to different modules. That is something I prefer to all the other softwares out there. As an accountant, I know my way around all of them but my first preference is the way Clear Books looks."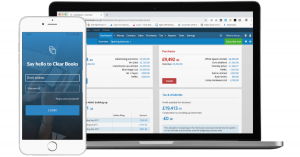 Generate the reports you need with ease
"I like the reporting module, it is very easy to use compared with competitor software. Other providers can often have too many reporting options which can become confusing. Especially when working with small businesses, you want to look at how the month has been, how the past few months have been and how the year is going. It's very simple to do this in Clear Books."
Clear Books understands small businesses
"There are nice features which any accountant will appreciate. It seems that Clear Books understands their audience better compared to other providers."
Riz gives examples of a few particular features which allow Clear Books to adapt to the changing needs of small businesses.
Flexible accounting periods
"Most accounting solutions have a standard 12 month financial period, which is fixed. Clear Books allows you to set financial periods of any length, be that shorter or longer than the standard 12 months, which is particularly useful when working with a small business that is changing its year-end."

Change VAT schemes with ease
"Clear Books has a really nice settings module for VAT. When working with small businesses, you'll often encounter scenarios where the client will change VAT schemes and many systems are not equipped to cope with this. Clear Books allows you to have periods on different VAT schemes and it's easy to distinguish between them."
Advice from 2E Accountants when you're new to online accounting software
Riz says that after looking through these points, accounting practices should definitely consider Clear Books as an option. "From an accounting perspective, Clear Books is great!"
Clear Books is available to try for free.
If you're new to Clear Books, there's a range of ways to take a closer look. For a tour of the system and its features, book a free webinar demo with our Account Management Specialist. Alternatively, you can try us free now for 30 days.