As cloud accounting providers, we aim to make our software as simple and intuitive as possible. But as our software handles a wide variety of key accounting areas, not all of our helpful features are immediately obvious to our customers.
In that spirit, we created this blog series in the hope of helping to highlight many tips and tricks that you can use to improve your Clear Books experience. Following on from our helpful Clear Books tips post last month — viewing your accounts on multiple tabs —  this month we're focusing on locking periods.
Locking accounting periods
Locking accounting periods in Clear Books allows you to easily lock a financial year — meaning that no transactions or activity within that period can be created or modified. This is useful for accountants or businesses in their month and year end reporting, as it disallows any false transactions to be recorded after that period has been locked.
How to lock a period
1) Navigate to Settings in your Clear Books account, and click Reporting Periods underneath the Periods heading.
2) Then simply click on the unlocked padlock icon to the right of the period which you would like to lock.

3) If successful, a confirmation message Period locked successfully should appear.

4) To easily differentiate between locked and unlocked periods, just look for the closed padlock icon to the right of the period to know that it's locked. You might want to unlock a period if you realise there's a late payment that you still need to declare!
Custom locked periods of time
With Clear Books we also allow our users to place a custom locked period of time on their financial statements. This allows you to allocate a period within any time frame you want, without affecting your annual reporting periods. Just simply go to Settings and click on Periods — there you will find the locking periods section, where you can define your new period!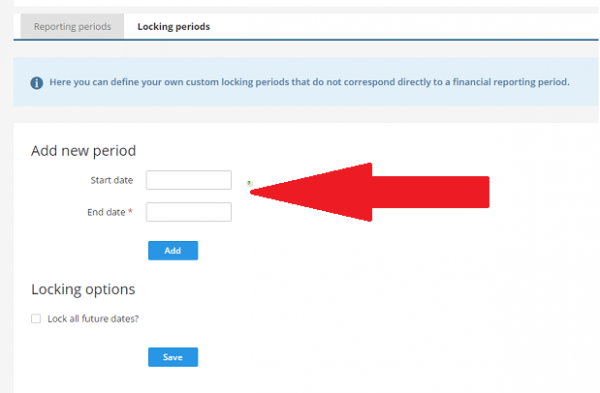 We would love to hear what time-saving Clear Books features you love and couldn't live without. Make sure to let us know your favourite in the comments.