You might have had a few sales here and there, a purchase from a friend or neighbour, maybe you're gaining a little traction through word-of-mouth.
But you know that if you're going to see those sales numbers increasing in a way that will lead your business towards profitability, you're going to have to do some serious marketing.
It's at this point that many business owners panic and take a scattergun approach to their marketing. They've heard that reels are the latest thing so they create a few to see what will happen. They know things are happening on TikTok so they check that out too. Then they print out some fliers, send a few emails, and cross their fingers, hoping brand interest and sales will follow.
Unfortunately, while no one can deny experimentation is the key to an effective marketing strategy, a disjointed approach rarely works.
If you want people to sit up and take notice of you and your brand, it pays to create a specialised, well-thought-out marketing plan for your business.
Now, if you're new to running a business, that might sound a little daunting but it truly doesn't have to be.
Follow the 6 steps below and you'll be well on your way to marketing success.
1. Create a summary of your marketing plan
Start your marketing plan by zooming out. Where does your marketing fit into the broader picture of your business?
What time period will your plan cover? The rest of the current quarter? Three months? Six months?
What are your key objectives? This might seem like a silly question — you just want more sales, right? But what is the best route to get you there? Is it all about acquiring new customers or is it worth focusing on encouraging repeat business? Maybe you need to do both.
If you're concerned about growing brand awareness, what might that look like? Do you want to keynote an industry-specific conference, secure a guest spot on ten different podcasts, or improve your social media engagement?
Details like these are the North Star of your marketing plan. If confusion sets in as you work your way through the rest of the steps, you can always return to your marketing plan summary to remind you of your key goals and objectives.
2. Define your target audience
Marketing your business isn't just about reaching more people; it's about reaching the right people.
Because if you're a graphic designer offering high-end (read: expensive) web development, there's little point in formulating a marketing plan that will get your brand in front of small start-ups that can't stretch their budget far enough.
If you're a coach that primarily works with women over 40, you don't want to waste your time getting to grips with TikTok if your potential clients are hanging out on Instagram or Twitter.
So take the time to think about the customers you've had so far or the type of people you'd most like to work with in the future.
What are their goals? What problems do they face? Where do they like to hang out online? What kind of language do they use? What matters most to them?
The answers to these questions will largely inform where, how, and when you choose to market your business.
If you're not sure how to answer these questions, don't be afraid to get out there and speak to your previous or potential customers. Getting to know them better won't just help you with your marketing, it will help you create and refine more useful products and services.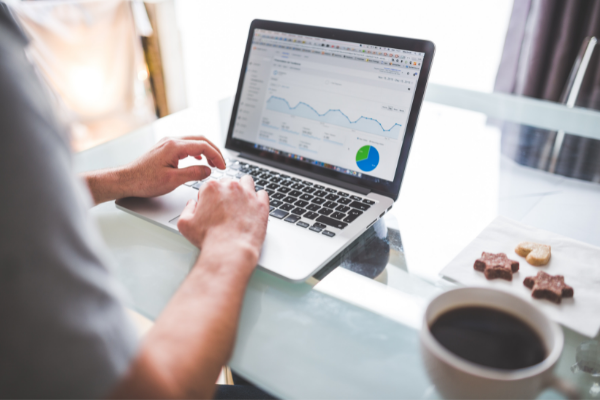 3. What's your brand position?
Both the online and offline worlds are awash with marketing and it's unlikely that your offerings are 100% unique.
Which is why it's important to work out how to position yourself and your brand within your marketplace.
Much of this will come down to figuring out (or creating) your USP (unique selling proposition), AKA what makes you stand out.
Once you know what makes you different from your competitors, you can use your USP to create taglines, influence your key marketing messages, and even use it as a springboard for content marketing ideas should you need them.
4. Competitor research
It's important to identify your main competitors and study their approach to marketing. Not so that you can copy them, but so that you can discover opportunities they've missed and find ways to make your marketing stand out from the things they're doing.
So do some research into who they are, how they're positioning themselves, and what their marketing efforts look like.
Then figure out how you're going to do it better!
5. Getting into the specifics
Now you've completed the first four steps, deciding how you're going to market yourself should be a lot clearer.
For example, you might have a good idea of which social channels your ideal customers are on, whether they respond better to print or online marketing, and how you can position yourself in a competitive marketplace.
So now it's time to get into the specifics.
Perhaps you'll want to focus on inbound marketing strategies such as improving your website's SEO or creating blog content, a podcast, or YouTube videos to attract, educate, and entertain your ideal audience.
Or you might decide to focus on outbound strategies, such as using fliers for local outreach, contacting local businesses that might be interested in collaborating with you, or developing an email campaign.
Most marketing plans will contain a mix of both inbound and outbound tactics, but this will, of course, depend on the goals you've set.
Whatever actions you've decided to take, it's important to outline the specifics of your campaign.
For example, if you've decided to launch a blog, how often are you going to post, how are you going to promote it, and what type of topics are you going to cover?
If you're embarking on a social media campaign, which social channels are you going to focus on, what type of content will you create, and how often are you going to show up to engage with your audience?
If you've decided to include networking in your plan, how are you going to accomplish it? Are you going to a local group or concentrating your efforts on online groups? Again, how often do you intend to show up and what type of person are you hoping to make contact with?
6. Measuring your results
When it comes to creating a successful marketing plan, measuring your success is vital.
But what does success actually look like to you?
Again, this will depend on the goals you set all the way back in step one and will determine which KPIs (key performance indicators) you decide to measure.
For example, if your main focus was acquiring new customers, you'll want to track both the number of new clients you gained and how they found out about your services. If a significant portion of them decided to buy because of a Facebook ad, then you know Facebook is a channel worth focusing on in future marketing plans.
It's not always about sales metrics though; if your principal objective for the quarter was to increase brand awareness and you've been invited to guest on three separate podcasts and give a talk at an industry event, that's a great indicator of success. Asking the people who issued those invitations what prompted them to get in touch will offer valuable insight into which of your brand awareness strategies worked and which didn't.
Remember: no matter which results you choose to focus on, it's all useful data — even if the results aren't what you'd hoped for. Even for well-established businesses, successful marketing is all about experimentation and finding out not just what works for your business, but what's working for your business now and then adapting your strategies accordingly.
So, if you've been feeling a little bit lost with your marketing recently, don't despair. Use these six steps to create a marketing plan and take it from there. And know that we're right here with you, rooting for you as you embark on the next exciting phase of your business journey!
Clear Books Online Accounting Software
Clear Books is an award-winning online accounting software for small businesses. Thousands of business owners, contractors, freelancers and sole traders across the UK use our easy-to-use online accounting software to manage their business finances. All users benefit from the outstanding free telephone and email support. Clear Books was launched in London in 2008 and offers a free 30 day trial with free ongoing support and bank feeds. We're rated as 'Excellent' on Trustpilot.
Get a free 30-day trial of Clear Books online accounting software here.