What is it and what does it do?
The 'date picker' is the small calendar that appears in various places within your Clear Books account, allowing you to select a date. This helps users work out the days of the week or visually see which day they are picking.
We've made some simple changes to the calendar interface, primarily to make it more logical to use. The visual cue which represented the current date on the previous design was misleading users, as they mistook this as signifying the selected date.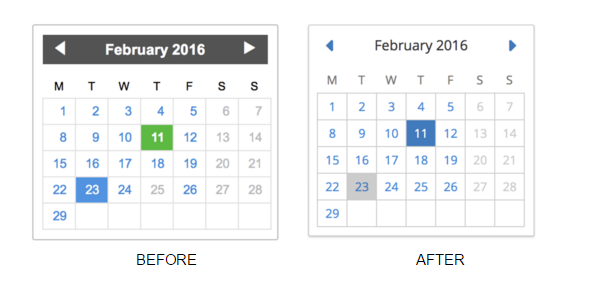 In the case above, the 'current date' is 23rd February and the date selected is 11th February.
We have tweaked the design so that the selected dates are clearly defined when you first land on the page. We have reduced the number of colours used which was the main problem and simplified it. The bold colour means you have selected a date and the light grey highlights the current date.
By doing this, we hope to marginally shorten the learning curve for our new users but also give it a fresh lick of paint for our seasoned users. Other than the visual changes, you can expect the same functions as before until we plan another iteration in the future.
How do I start using this update?
Simply sign in to your Clear Books account, and you'll see the updated design automatically!