Here at Clear Books, we've implemented a major design improvement to our support centre so customers like yourself (or just casual readers checking out our blog – hello!) will find and receive the help you need fast so you can do your job quickly. Big changes have been made to our "Need help?" feature, which is available to all users within all our applications.
Nothing is more annoying than beating around the bush when you need help quickly. Now you have the power to quickly access and choose the best option of support most suited for you. You'll notice now that our brand new instant support chat, free phone support, and quick access to email support have all been added to the options.
Check it out by logging in to your account. You will find "Need help?" on the top right of the screen directly below your navigation bar.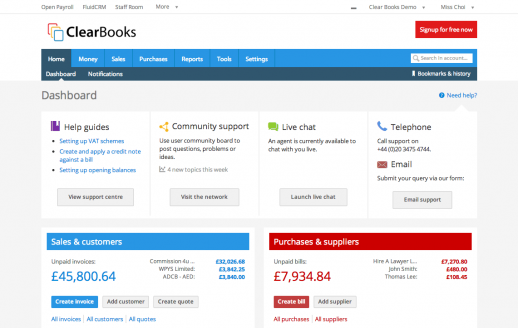 In other news, support guides are now searchable with our handy search bar at the top of every support page. Individual guides have been crafted for maximum legibility and so you can solve your problems and have your technical queries answered in style.
If you take a look at the 'before/after' examples of the Help Guides page below, it wasn't always very helpful or straight forward to use and we've completely changed that. 
Overall exciting things are happening, because we want to be helpful. We're still in the progress of completely revamping our support. If you have any comments or suggestions about our recent changes, feel free to leave a comment below and we'll get back to them ASAP.