From Monday 17th December 2012 the way our customers log in and sign up to Clear Books is changing.
For new customers (post 17th December 2012) you will sign up and log in to Clear Books using a direct log in system. As you are new to Clear Books this probably sounds (and is) very simple, straightforward and obvious.
For long standing customers  (pre 17th December 2012) you all currently sign in with your Fubra Passport. This will continue to be the case in the short term. However, we will seamlessly migrate you to our new system in the new year.
The reason we are moving away from the Fubra Passport as the default option is to streamline the process when signing up, inviting in users and paying for your subscription. We will continue to offer the Fubra Passport as a log in mechanism and we would like to support single sign on through other apps such as Twitter, Linkedin, Google and Facebook in the future.
So in practice what has changed? Well, we've made a few changes around managing your organisations and applications when you sign up or log in to Clear Books.
Login
If you are a new customer use the option on the left. If you are an old customer use the option on the right (i.e. log in with the Fubra Passport).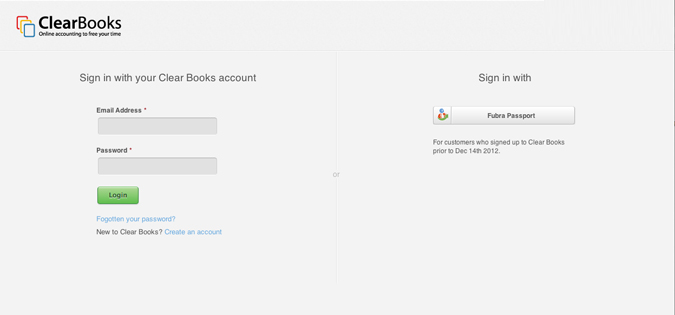 Account Management
When logged in you will now have an account management screen that lets you choose the organisation you want to log in to as well as the app you want to use (e.g. Clear Books, Open Payroll). We're also using this area to display the latest news from the blog. In the future there will be some further useful tools and settings accessible from this area.