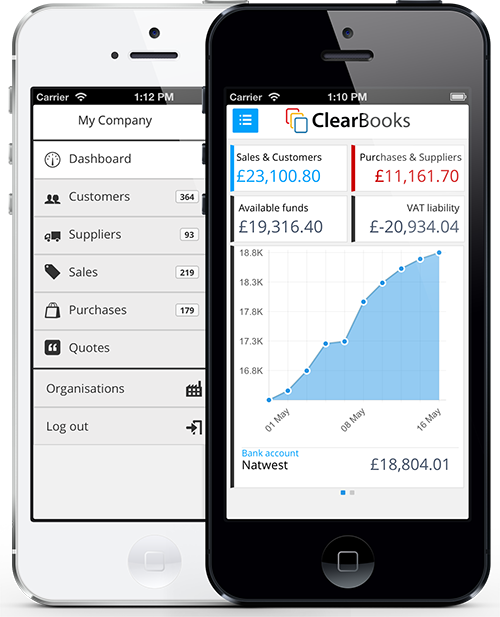 Since the mobile app launch in February earlier this year, we have been working hard to improve the app – using your feedback as guidance. Today I am really pleased  to announce the  release of Clear Books Mobile 1.0 .
Making a beautiful app that is not only attractive, but also easy to use and packed full of the information that you need on the go has been the goal with this version. We have put a lot of focus on the new mobile dashboard, to bring you a fast overview of your company at your fingertips.
This version, like the others, is available for Android and iOS (now with better support for iPad).
You can download the app by scanning the codes below, or searching for "Clear Books" in the App store for iOS, or Play store for Android. If you don't have a device with these operating systems, you can always access our web version at http://m.clearbooks.co.uk
The widgets
The dashboard is being launched with 5 new widgets:
Sales & Customers

Purchases & Suppliers

Available funds

Vat Liability

Bank accounts
These widgets will give you extra information or take you to a more specific area of the app when tapped.
In the case of the Bank accounts widget, if you have more that one bank account in Clear Books, you can swipe the card to view each account.
Sidebar navigation
The main navigation has been moved to a new sidebar that will give you access to the main sections of the app. It will allow quick access to the number of customers, suppliers and invoices you have, and the ability to switch to another organisation, in case you have more than one business on Clear Books.
Improvements, speed, bug fixes
We've not just been adding new features, a good amount of time  has been spent working from the bottom to the top to improve speed and performance. We care about even the smallest details and know the importance of a responsive mobile app.
Access to users with limited accounts
Since version 0.9.6 we have started giving access to additional users on Clear Books accounts.
Users who have permission to view any of the following are now also able to use the mobile app:
Sales – Customers

Purchases – Suppliers

Sales – List Invoices

Purchases – List Bills

Sales – Quotes
The app and the dashboard will be customised automatically based on the individual user's permissions.
Feedback
Please let us know what you think about the new version of the mobile app in the Network or by commenting on this blog post. We never stop developing features, but we need to know what you need and want so we can make it a reality.
If you like this release, don't forget to give us a 5 star rating in the Google Play Store and Apple App Store.