Have you come across a scammer trying to win your trust this year? Unfortunately, fraudsters are on the rise trying to make use of the coronavirus pandemic as an opportunity to take advantage of people's sense of uncertainty and fear.
Action Fraud has reported that £2 million has been lost to coronavirus scams this year. And, it's not just one group of people who are falling prey to this act of atrocity. Scammers are targeting both small and large businesses. So, knowing how to spot strange activity may save your business both time and money in the future.
Here are 3 ways to help protect yourself against scammers:
Choose a strong password, and remember not to use the same one twice!
A secure password prevents a scammer from easily guessing or cracking your password using software tools. When setting your password it's always best to use a combination of uppercase and lowercase letters, symbols, and numbers.
You should try to create passwords that are at least eight characters long and, as a general rule of thumb, the more letters and numbers your password contains the harder it is for scammers to crack.
If you ever receive any communications that appear to be from Clear Books asking you for your username or password, please notify us immediately via our support team here and do not reply to the email.
Look out for fake 'HMRC' tax refund and rebate scams
It can be really difficult to spot a fake email apart from a legitimate one, especially when they display the HMRC or GOV.UK logo. Recently, for example, there has been an influx of emails sent around so that scammers can trick people into handing over details in order to claim a fake tax rebate. Now, you may be thinking 'doesn't your tax refund automatically get processed by HMRC and why are people fooled?' Well, for the large number of self-employed individuals filing an annual Self Assessment each year, this isn't the case, making them the primary target and victims of this sort of scam.
How can you tell it's fake? Well, for starters, HMRC will never send notifications by email or text about tax rebates or refunds. They will only communicate via post. So, if you do happen to receive an email of this sort, refrain from opening the message, any links and attachments, and more importantly do not disclose any personal or financial information. Instead, email phishing@hmrc.gov.uk with a copy of your message for further investigation.
Double-check your SMS messages. It may not be from who you think
Your bank may send you a text message from time to time to confirm whether a card transaction needs to be verified or when a new payee is added to your account. However, be mindful of this because it may not always be your bank sending you the message this time around. This type of scam is known as Phishing.
If you're asked to click on a link in the message, don't! When you see a link in a text you should immediately consider that it may be a fraudulent text message. Scammers send fake text messages to trick you into giving them your valuable and private information so that they can get a hold of your email, bank, or other account details.
If you do happen to receive an unexpected text message and it asks you to give personal information, then contact the company immediately using the phone number listed on their website. Be alert not to call the number in the message.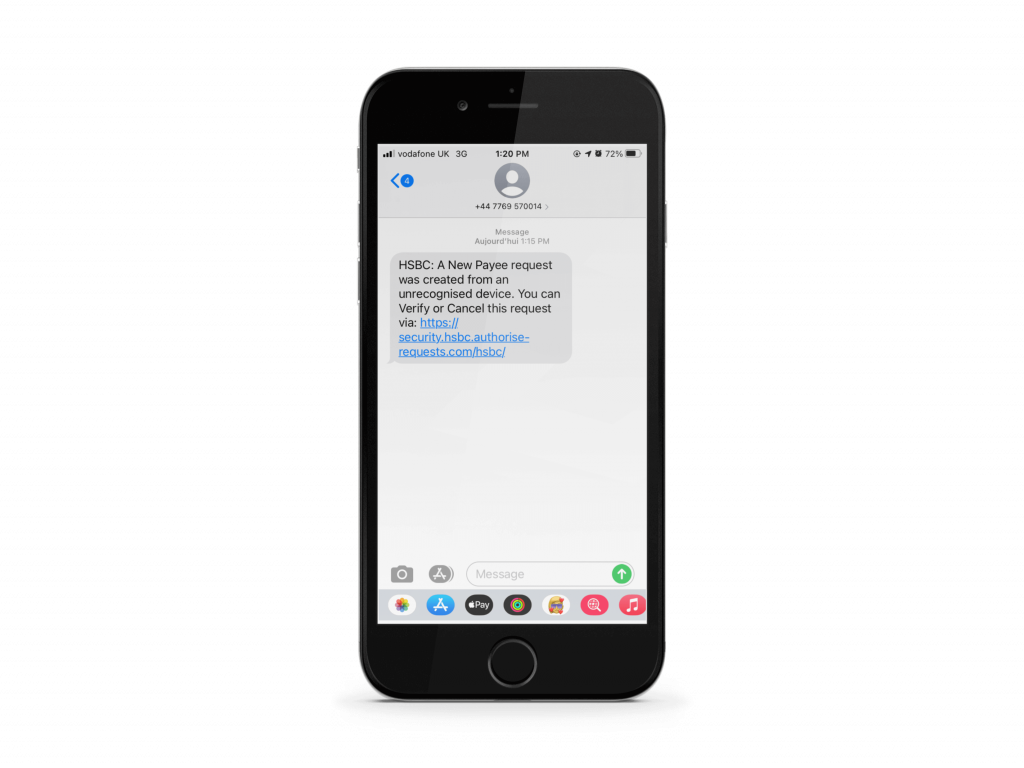 We've got a list of resources for you to use to help manage your risk against fraud
It's always best to familiarise yourself towards the different types of email scams that are going around. Take a look at the GOV.UK website to see the latest examples of phishing scams.
If you think that you have been a victim or want to read more as to how you can avoid being scammed then check out the useful links below.