Clear Books is pleased to announce that we have received the stamp of approval from The Institute of Chartered Accountants in England and Wales. Clear Books is officially ICAEW accredited accounting software.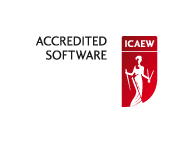 The ICAEW's accreditation process involved a rigorous independent evaluation of the Clear Books product and Clear Books has satisfied the ICAEW's robust technical evaluation criteria which also verifies that the company is financially sound and offers strong customer support.
The ICAEW accreditation scheme is fast becoming the benchmark for software used by accountants in both business and practice markets so we are delighted to add this accreditation to our existing Institute of Certified Bookkeepers accounting software accreditation.
Disclaimer:
*The Institute of Chartered Accountants in England and Wales has accredited Clear Books under the terms of the ICAEW Accreditation Scheme. Purchasers should ensure that the software, its security features and related support meet their own specific requirements, as the Institute will not be liable for any damage whatsoever, incurred by any person, occasioned by the use of the software, or any related products or services howsoever caused.