Have you considered working with a virtual assistant?
If so, you're not alone.
Virtual assistants — or VAs — have become incredibly popular over the last decade and, as a busy business owner, you probably understand why.
As your business began to take off, you might have found yourself increasingly bogged down by the day-to-day running of your company. From managing bookkeeping and other admin to delivering your core products and services, from addressing customer service issues, to dealing with suppliers, not a single minute of your day is unaccounted for.
And now you're at a point where you can only dream of having the time to engage in the activities that would help you increase your customers, strengthen your brand, and boost your profits.
In short, you need help — especially if you want to grow your business.
However, while you might have considered hiring a permanent full or part-time employee, you suspect that you're not quite ready for that level of support and commitment.
Enter: virtual assistants.
A VA could offer you the flexible help you're looking for, so let's dig a little deeper into the 4 things you need to know about working with a virtual assistant.
1. What is a virtual assistant?
VAs are independent workers who can assist you with a large variety of business tasks, from general admin to more specialist areas like accounting or social media management.
Typically working with multiple clients they are a flexible workforce that can work as many or as few hours as you require, whether you need year-round help or just need extra support to cover you during busy periods or during staff absences.
And because they work virtually, you can work with a VA who lives pretty much on your doorstep or find one based on the other side of the world.
2. What could a virtual assistant do for your business?
Once you start searching for a VA, you might start asking yourself what a VA can't do, because the list of tasks they can support you with is exhaustive.
Whether you need someone to help you manage your calendar, take control of your overflowing email inbox, organise your travel itineraries, research leads on social media, help with recruitment, or maintain your accounts and chase down unpaid invoices, you'll find a VA that specialises in that area.
And because many of these tasks severely eat into your available work hours, having someone else take the reins will free up your time work on higher-value activities that will boost your bottom line.
So, if you are thinking of hiring a VA, pay close attention to how you spend your working hours and take note of the tasks that cause you the most stress, take up the most time, or that you just hate doing.
This will give you an indication of the things you might want to hand over to a VA and will help direct your search for the right person.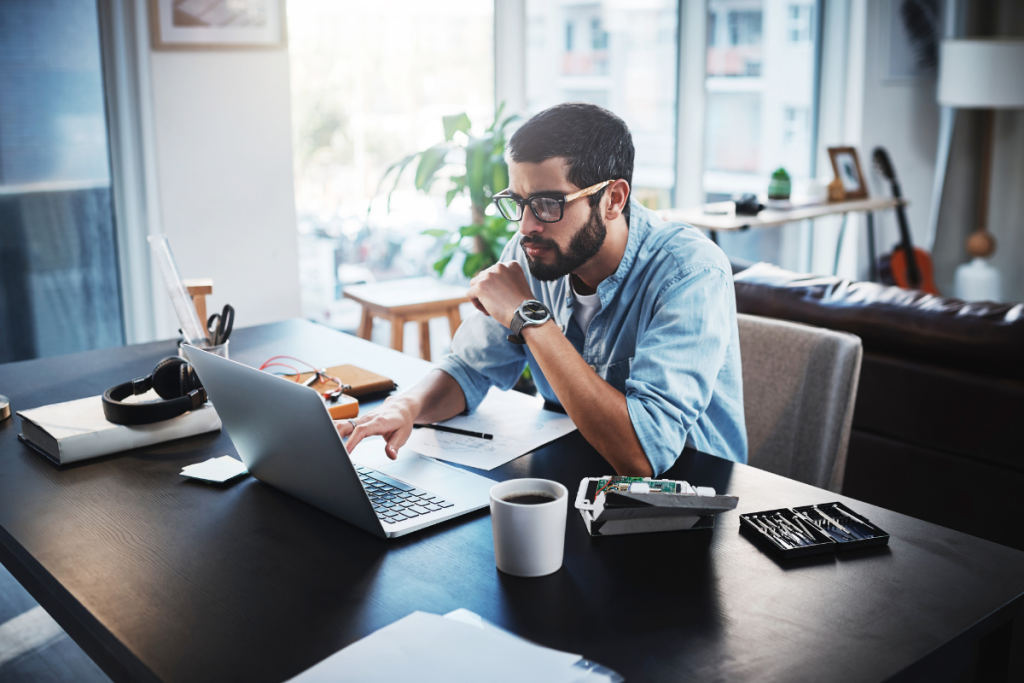 3. Do you really need a virtual assistant?
While many busy business owners could benefit hugely from the support VAs offer, it won't be the right option for everyone.
And largely this will depend on the level of help you need.
For example, if you only need a few hours of support right now but expect this to increase drastically over the next few months, it might make more sense for you to hire and train up an intern who you can then transition towards full-time employment.
It might be that you feel overwhelmed by your admin because you haven't yet streamlined your processes. In which case, it's worth looking into software options that would increase your productivity and give you more time to work on the things that really matter to you.
For example, investing in online accounting software like Clear Books, would take a lot of the stress out of your bookkeeping, allowing you to automatically generate invoices, invoice payment reminders, and financial reports. The upside here is that the software is really easy to use so if you did decide to hire a VA further down the line, it would ensure a smooth hand over process and give you one less thing to worry about.
However, if you feel completely overwhelmed by your current workload and are spending most of your time working in your business rather than working on your business, it's probably worth enlisting the help of a VA.
4. What are the drawbacks of working with a virtual assistant?
While there are clearly plenty of benefits to working with a VA, it's important to take note of the limitations too.
Because you aren't going to be your VA's sole client, they might not always be able to prioritise your work or accept tasks with minimal notice.
And while many VAs are highly specialised, well-trained, exceptional workers, you will still have to factor in some time to train them up and familiarise them with your systems.
Of course, you can generally mitigate these drawbacks fairly easily. Get the most out of working with your VA by focusing on clear communication, making sure they have all of the information they need to get the job done, and treating them with the same respect you would any other contractor in your business.
If your current admin responsibilities and workload has you feeling swamped, hiring a virtual assistant could the game-changer you're looking for, giving you back the time you need to focus on reaching the next exciting stage of business growth.
Clear Books Online Accounting & Payroll Software
Clear Books is an award-winning online accounting & payroll software for small businesses. Thousands of business owners, contractors, freelancers and sole traders across the UK use our easy-to-use online accounting software to manage their business finances. All users benefit from the outstanding free telephone and email support. Clear Books was launched in London in 2008 and offers a free 30 day trial with free ongoing support and bank feeds. We're rated as 'Excellent' on Trustpilot.
Get a free 30-day trial of Clear Books online accounting software here.