Here at Clear Books we like nothing more than to find out what all of you lovely lot think of us and the software that we provide you with. And why is that? So that we can put your feedback into action and make Clear Books even more fantastic for you!
In this month's newsletter we launched our 'Say it on a post it' campaign, encouraging you to let us know what you think by writing it on a post it and sending us a picture. The first 100 applicants received a Clear Books goody pack consisting of pens and post its and now the entries are rolling in. Make sure to like our Facebook page to see all of the fantastic pictures and remember to keep an eye out for the monthly Clear Books newsletter for future competitions.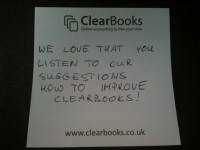 If you were one of the lucky 100 to receive a goody pack, make sure you get your picture over to us by 12th October 2012 to be in with a chance of winning a £50 cinema voucher! Just send your picture to marketing@clearbooks.co.uk or post it on our Facebook page.