From the desk of Product Management: recent product updates from Veronique Hon, Product Manager, Clear Books.
We've made numerous additions and enhancements to Clear Books over the past months, and there are loads of new exciting features and partnerships coming up. So hop on the Product train and let's take a quick tour of what's been happening at Clear Books.
Recent releases
1. Clear Books Mobile app updates
As businesses transition back towards pre-pandemic ways of working, having flexibility to run your business how and when you want is critical. We've added more features to help you run your business on-the-go, when you want, where you want, thanks to Clear Books' mobile app.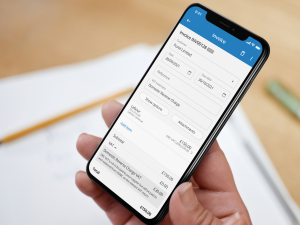 In our most recent mobile app release, we're making sure that any default settings on the Clear Books' web experience are also used when you create invoices via the app, to ensure your customers have the right payment terms, and you have the invoice looking exactly as you want it to.
For customers in the construction sector, VAT Domestic Reverse Charge is now supported on the mobile app, so you won't need to wait to be back at home or in the office to create your invoices and bills.
We've also added a due date field on top of using account defaults to give you more control over when you want to get paid.
Not using our mobile app yet? Why not give it a try.
Apple users can download the Clear Books Mobile app from the Apple App Store, and Android users can equally it from the Google Play Store.
2. Direct bill payments
Paying bills and payroll can be a time consuming, manual process that's prone to human errors. We've partnered with Revolut Business to help small businesses tackle payment admin more quickly, efficiently and accurately.
Using this new feature we found that payroll could be run and paid in under 2 minutes — or 15x quicker than current processes!*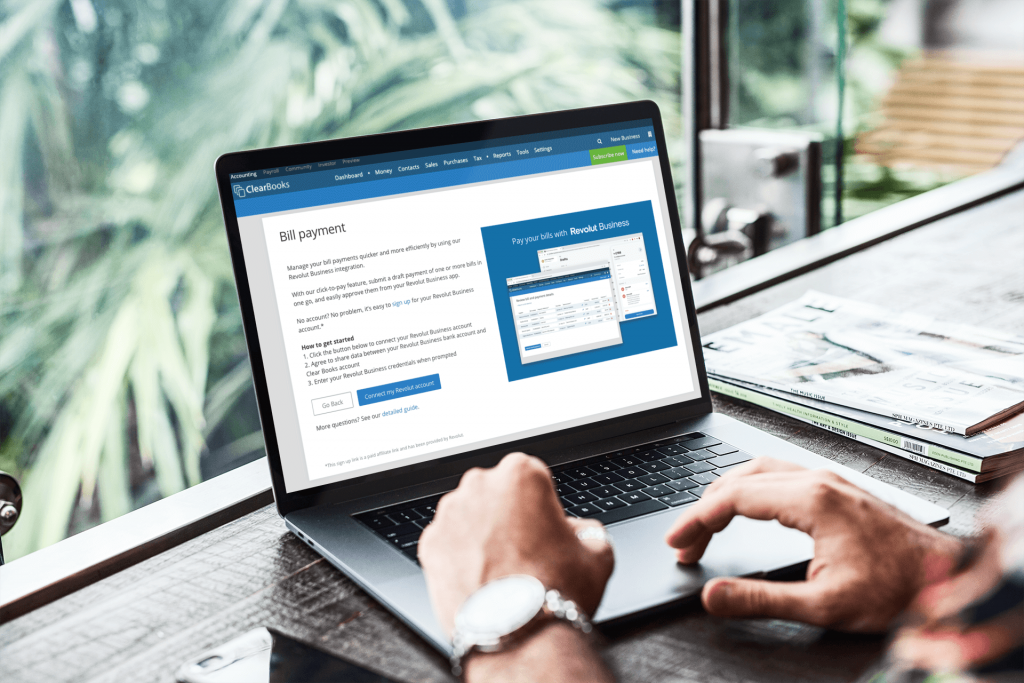 So how does it work? Once you've connected your Revolut Business account to your Clear Books account, you can select multiple bills at once, then simply click the "Pay bills" button. You'll only ever need to input supplier or employee bank account information once. This will create draft payments within your Revolut Business account that you can approve and pay from Revolut Business in one click.
Paying staff through Clear Books Payroll follows the same process. Once you've run your regular payroll, make sure to "import to accounts", and you'll be able to initiate all the salary, pension and HMRC payments in one go through Clear Books Accounting. Read more about the feature and how it works.
Haven't yet tried Clear Books Payroll to speed up simplify your payroll and accounting within one Clear Books product? Take a free trial here or sign up for a free 121 payroll demo.
To use this new and sleek 'direct bill payments' feature in Clear Books, you'll need to hold a registered Revolut Business account. It's easy to join and you can sign up in minutes.**
Upcoming releases
1. Payroll enhancements
There's a flurry of enhancements coming very soon to Clear Books Payroll. Amongst these will be the ability to:
resubmit your FPS when making corrections in a previous tax year
upload new employees and update details to existing ones via a CSV import tool
switch from other providers or start using Clear Books Payroll part way through the tax year more easily
We'll let you know when these drop, together with the other exciting payroll updates, so keep an eye out if these sound like something your business could benefit from.
2. Cash flow insights
Cash flow is king! We've seen how important it is to keep a pulse on the business' finances — making sure there's enough cash to keep operations running smoothly, or to fund that business expansion you've been planning. The pandemic has added a lot of uncertainty to business' cash flow, but in the next few weeks, we'll be releasing two new insights that will give you a helping hand to keep track of your cash runway.
In the meantime, check out your financial ratios to get a picture of your business' financial health.
Together with our new cashflow insights we'll be announcing a really exciting partnership that will bring amazing benefits to our customers – so watch this space!
Customer feedback & support
We're always striving to make our product easier to use so all our customers can better understand and manage their finances. So we'd love to hear from you and get your feedback. Equally if something doesn't seem quite right, or you need some help with your Clear Books account, please feel free to get in touch with us.
Clear Books is an award-winning online accounting software for small businesses. Thousands of business owners, contractors, freelancers and sole traders across the UK use our easy-to-use online accounting software to manage their business finances. All users benefit from the outstanding free telephone and email support. Clear Books was launched in London in 2008 and offers a free 30 day trial with free ongoing support and bank feeds. We're rated as 'Excellent' on Trustpilot.
Get a free 30-day trial of Clear Books online accounting software here.
*Using Clear Books Payroll and Accounting. **This sign up link is a paid affiliate link and has been provided by Revolut.